G Angel Sewer Service
- Bloomingdale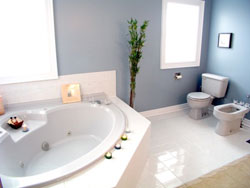 G. Angel Sewer Service, Inc. provides comprehensive sewer services and plumbing for the Chicagoland area. We are headquartered in Bloomingdale, and offer our service in Chicago and throughout the suburbs.
G. Angel Sewer Service, Inc., is a family-owned-and-operated company that offers quality,
personalized service
for several types of plumbing and sewer problems. G. Angel Sewer Services was founded on a commitment to our customers and quality work. 50 years later, we continue to uphold our equipment through
honest, reliable work
and customer service.
We use
advanced camera technology
to document the interior appearance of your systems, so you can view the problem, yourself. Every service performed by our uniformed technicians is done up to code to ensure the safety and quality of our work. They'll even go through the sink and kitchen lines to guarantee the system works. These are just a few reasons we're head and shoulders above the competition. Contact us to find out other ways we can help.
About G. Angel Sewer Services – Bloomingdale
Contractor, Karen Angel, has always been around the plumbing and sewer industry and when she saw an opportunity, she grabbed it. The opportunity was a business venture that allowed her to provide quality work to thousands of customers. Now she runs a full-service company that will fill all your plumbing needs from leaks to repairs on new faucets, water heaters, sinks, and tubs.
Call
773.725.8828
or click for
Sewer Services & Sewer Repair
.
We have locations throughout Chicagoland. We commonly provide Sewer Repair & Sewer Services for Chicago, Bloomingdale, Schaumburg, Aurora, Naperville, St. Charles, Evanston, and everywhere in between.